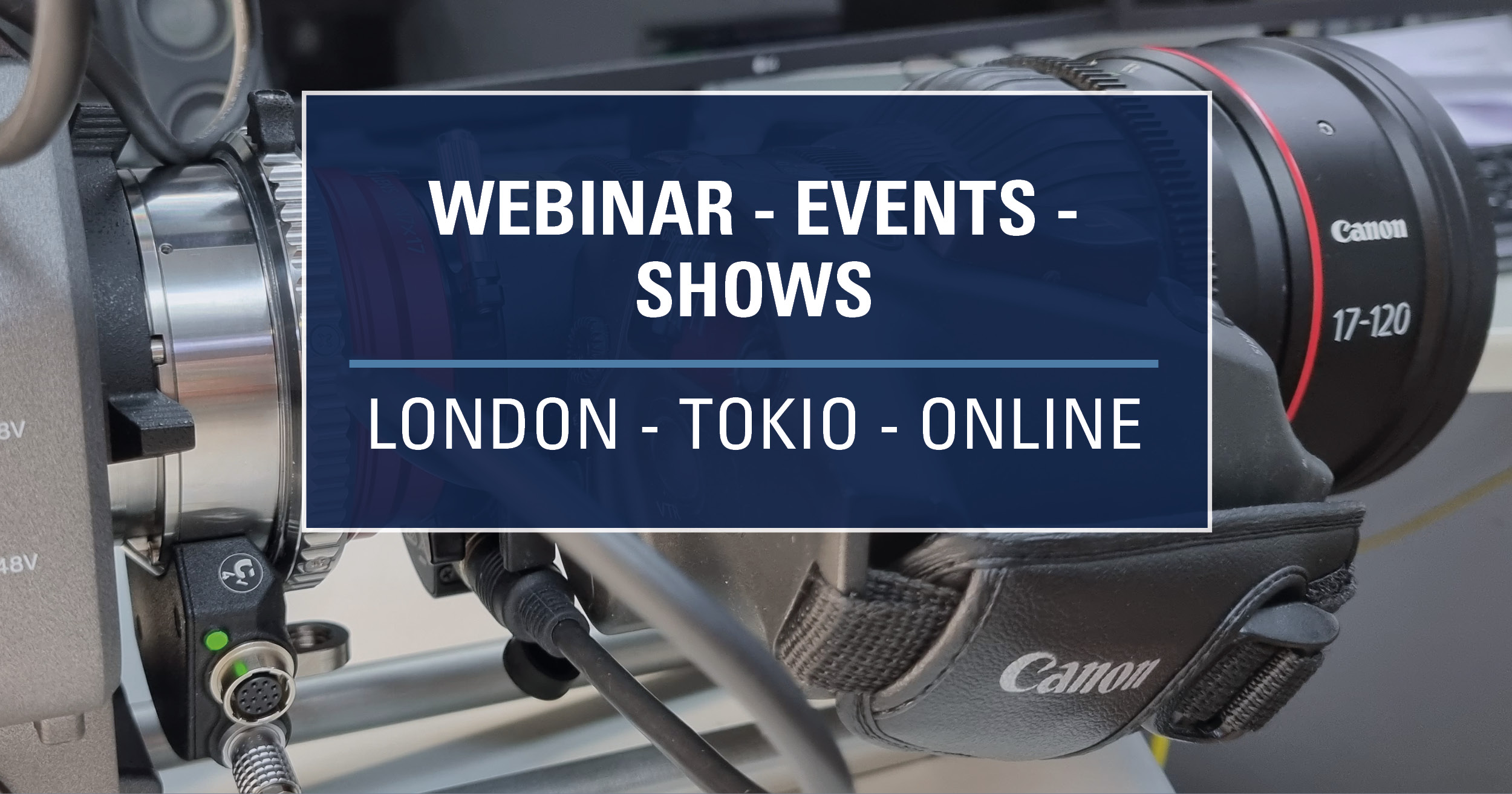 The Chaos Show, CVP 1st AC Event & Interbee Japan
Meet us online in our series of Webinars, visit the CVP 1st AC Event in London or stop by at our stand at Interbee, Japan.
WEBINARS, EVENTS & TRADE SHOWS
The first 2 weeks of November 2022 are a great chance to get back in touch. We have been busy developing new products throughout the year, now it is time to check them out.
THE CHAOS SHOW - ONLINE TRADE SHOW
We will be hosting a series of online webinars during THE CHAOS SHOW, an online show to get in touch and update you while staying comfortably at home or at work. Don't miss the opportunity and join the following Chrosziel Sessions:
The Meta Mount - A Hot E-PL Adapter
From Metadata to ENG Lens Control with the Meta Mount E-to-PL
Chrosziel Adventure
What We Do and What's New
Chrosziel professional camera accessories – An Overview
Outfitting Your Cine Camera & Lens with Chrosziel
Bring the Cine-Look to your broadcast workflow with the Premista Servo Drive
Premista Servo Drive, the Easy, All-in-One Solution for the Cine-Look in Broadcast
P-TP7II Lens Test Projector
Find out why the Chrosziel TP7 is the industry standard lens test projector
Chrosziel's Zoomer
Maintain professional zoom control during run-and-gun with the Zoomer Z2
To sign up for the sessions, please visit
https://www.thechaosshow.com/
SHOWCASING FOCUS PULLING TOOLS FOR A 1ST AC WITH CVP - REAL EVENT
At CVP, London, join this informative and interactive hands-on event as we explore the latest tools, equipment, and techniques for Camera Assistants / Focus Pullers of all levels. As the performance and accuracy of your tools are crucial, CVP have created a unique showcase offering an environment to test and compare the most popular range of solutions with an opportunity to debate and discuss with your peers as well as CVP's independent Technical Consultants. Heiko, our Head of Electronics, will be on site to give you a full run through all the latest Chrosziel electronics.

INTERBEE, TOKIO JAPAN - TRADE SHOW

Make sure you join our Chief Sales Officer Marc and CEO Timm at the Interbee trade show in Japan. Take the opportunity and learn more about our latest developments displayed on site:

NEW! META MOUNT E-PL ADAPTER - Hot PL lens mount to Sony E mount with ENG cable connectors for ENG lens control.

PREMISTA SERVO DRIVE – One servo drive to rule them all! This precision 3-motor, compact servo drive unit is designed to control zoom, focus, and iris on all Premista series cine lenses. Add the cine-look to your broadcast application.

ZOOMER UNIVERSAL ZOOM MOTOR – High-precision universal servo for zoom control on still and cine lenses.

P-TP7II LENS TEST PROJECTOR – latest developments - LDS / iData Meta Data, add control of lens data directly in the projector to your workflow and new reticles for ENG lenses and from Otto Nemenz.

NEW! SONY VENICE 2 ACCESSORIES – Fitted baseplate w/15mm rails, side cage, top plate and more.

NEW! SONY FX9 BATTERY ADAPTER - V-Mount to Sony hot-swappable Battery adapter with built-in Universal slot and battery status transmission

SONY FX9 ACCESSORIES – Fitted baseplate w/15mm rails, top plates, cables and more.

SONY FX6 ACCESSORIES – Fitted baseplate w/15mm rails, top plates, cables and more.

OFFSET AUDIO ADAPTER – Compact mounting bracket to off-set the Sony XLR-K3M audio adapter for protection.
Take the opportunity and check out the Sony FX9 with Fujinon Premista lens, Sony FX6 with photo lens and the P-TP7II lens test projector with ARRI Signature Prime and Leitz Thalia. Meet us at GIN-ICHI stand, hall 5 Booth No. 5106.
See you!