Wirelessfiz & Lens Control
Wirelessfiz & Lens Control - BEST COMPATIBILITY
Development of MagNum and Aladin Lens Control Systems
MagNum and Aladin Lens Control Systems are compatible with a broad range of lenses, motors, cameras and remote panels. They are under constant development. Discover the various applications besides their standard use.


Control of Internal Lens Motors:
The control of internal lens motors does not only allow you to save money for external motors, it also reduces the total weight of the recording system and its installation time. The optional connection cable relates MagNum or Aladin to the lens. In the menu, focus / iris or zoom functions can be activated all together or individually. A wide range of lenses are supported, among others almost all models from Angénieux, Canon, Fujinon and Zeiss.


Compatibility with motors:
Aladin und MagNum are compatible with motors from HEDEN, Betztools, ARRI, Service Vision, Sinacam, RED and similar. The list of supported motors increases continuously.


Broadcast related applications:
Tested successfully with the following equipment: Sony CA-4000 System Adapter, Ikegami HDK-97ARRI, i-movix System Adapter with Phantom Highspeed Cameras.
MagNum and Aladin are connected to the system adapter or the camera via power and 12-pin Hirose Lensport-Interface cable. No further adjustments have to be made. Control the Iris as usual through your RCP and operate the VTR and talkback signals with the zoom rocker. Focus, Iris and Zoom follow voltages are fed back into the camera.


Canon RC-V100 Remote Control Panel & EOS C500/C300:
With an adapter cable, Magnum or Aladin are connected parallel tothe Canon RC-V100 Remote Control Panel and the Canon EOS C500/300. The Remote Control Panel allows direct control of focus, iris and zoom by little rotary control knobs. The intelligent control of MagNum and Aladin allows combined or separate control of some functions, like pulling the focus wireless with the hand unit or with RC-V100 for final corrections on the large preview monitor.


Camera-Start/Stop Control via switching contacts and LANC:
Control of the camera start/stop function of virtually all cameras is possible with optional adapter cables for MagNum and Aladin. Besides the standard signals for cameras like Aaton, Arri, Aja, Blackmagic, Canon, Fujinon, Ikegami, MovieCam, Panasonic, Panavision, Red, Sony and others, further special signals like LANC or 12-Pin-Hirose-Lensport-Interface are supported.
Serial control signals through optical fibre and IP-Converter:
Safe control of serial signals over large distances. The hand unit of MagNum or Aladin can be connected by a serial link via RS-232/422-Signal. The signal can be transmitted via optical fibre or IP-converter from various manufacturers like Sony, Nipros Protech, Lynx Technic, Baby-G, Blackmagic and many others with adapter cables.


Control Solutions for Camera Head Lights with Steadycam applications:
A DMX-Signal can be fed in the hand unit and transmitted to the receiver. The receiver controls the dimmer function of e.g. a Litepanel or an optional dimmer unit of a lamp.
Stereo 3D Rigs, 3D Cameras and Software:
Aladin and MagNum are compatible with various 3D Rigs, like Stereotec or P&S Technik. Moreover, the Aladin can be controlled and analysed by SONY MPE-200 processing engine and StereoLabs Pure 3D. Even Fraunhofer Institut is convinced of Aladin's wide applications and uses it with the Hybrid 3D camera or Panoramic UHD application.
Motion C apture and Virtual Reality:
Aladin is able to stream meta data like focus, iris and zoom position, roll and tilt, timecode and 3D Rig data through several protocols. Among others, StereoLabs and Motion Analysis analyse this data. Aladin can also receive external data like timecode and store it on USB or stream it serial.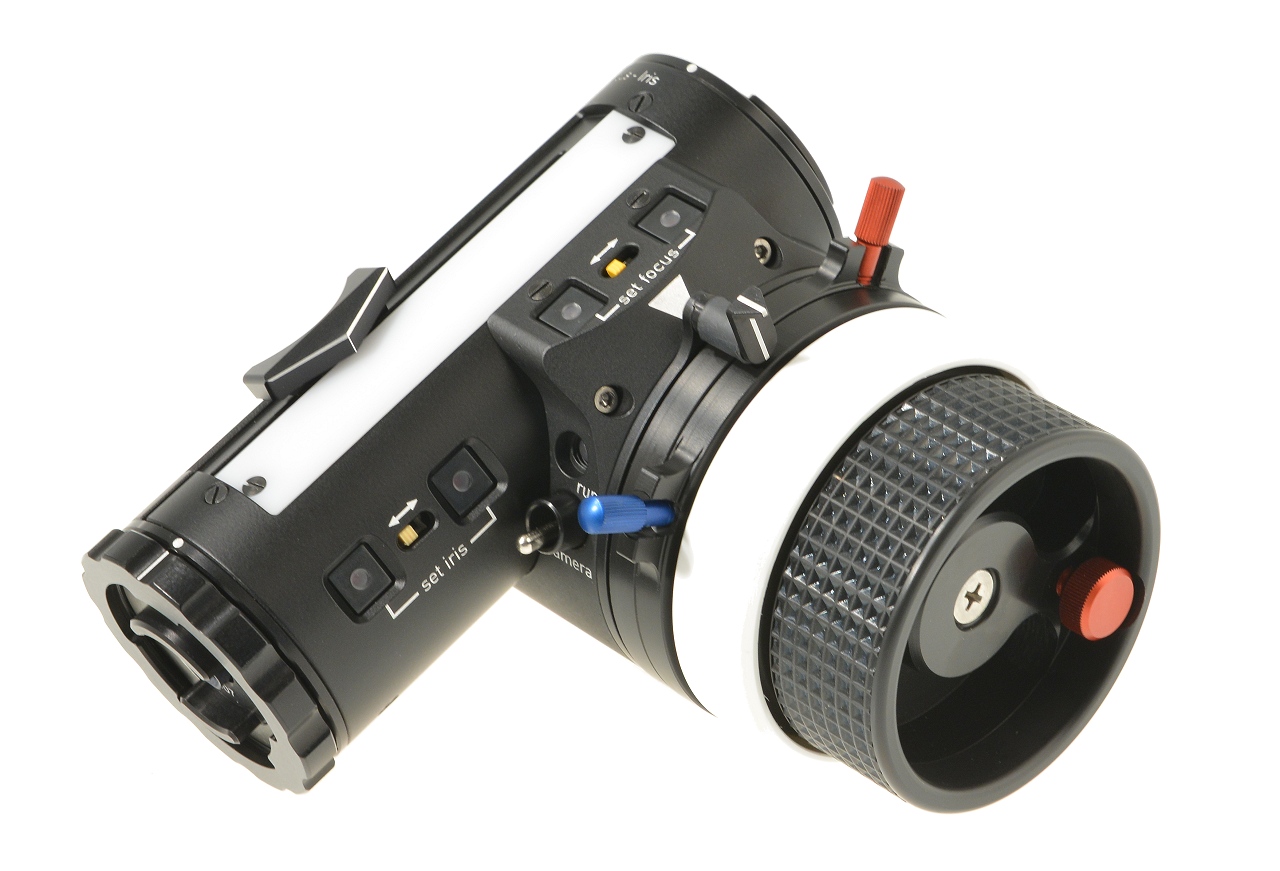 Overview of the latest functions
MagNum Hand Unit Assignable User Keys: Assign specific function to the User Keys in order to spread the Focus or Iris Scales, calibrate a specific motor, Start / Stop the camera, LED Light On / Off and more
MagNum Hand Unit Wireless Software Zoom: Use the Keypad Cross to zoom in and out with the keys as well as setting the zoom speed
MagNum and Aladin RED Motor Compatibility: Use your existing RED Motors with our LCS
MagNum and Aladin Canon 5D Camera Start / Stop: Remotely start and stop the Canon 5D camera with the optional Canon 5D Mark III cable (MN-COFEOS, AL2-COFEOS)
Aladin Preston Hand Unit Support: Use your existing Preston Hand Unit with the Aladin MK II by connecting the Preston Protocol Adaptor (PPA) with the Aladin Extension Modul AL2-EXT-DLI
MagNum and Aladin Canon RC-V100 Integration: Control Focus, Iris and Zoom of the MagNum and Aladin remotely with the Canon RC-V100 Remote Panel by using the optional adapter cable AL2-INTF-LPV100
MagNum and Aladin Canon CN7x17 Integration: Control the internal encoder motor of the new Canon CN7x17 with the optional adapter cable (MN-PMCD / AL2-PMCD)