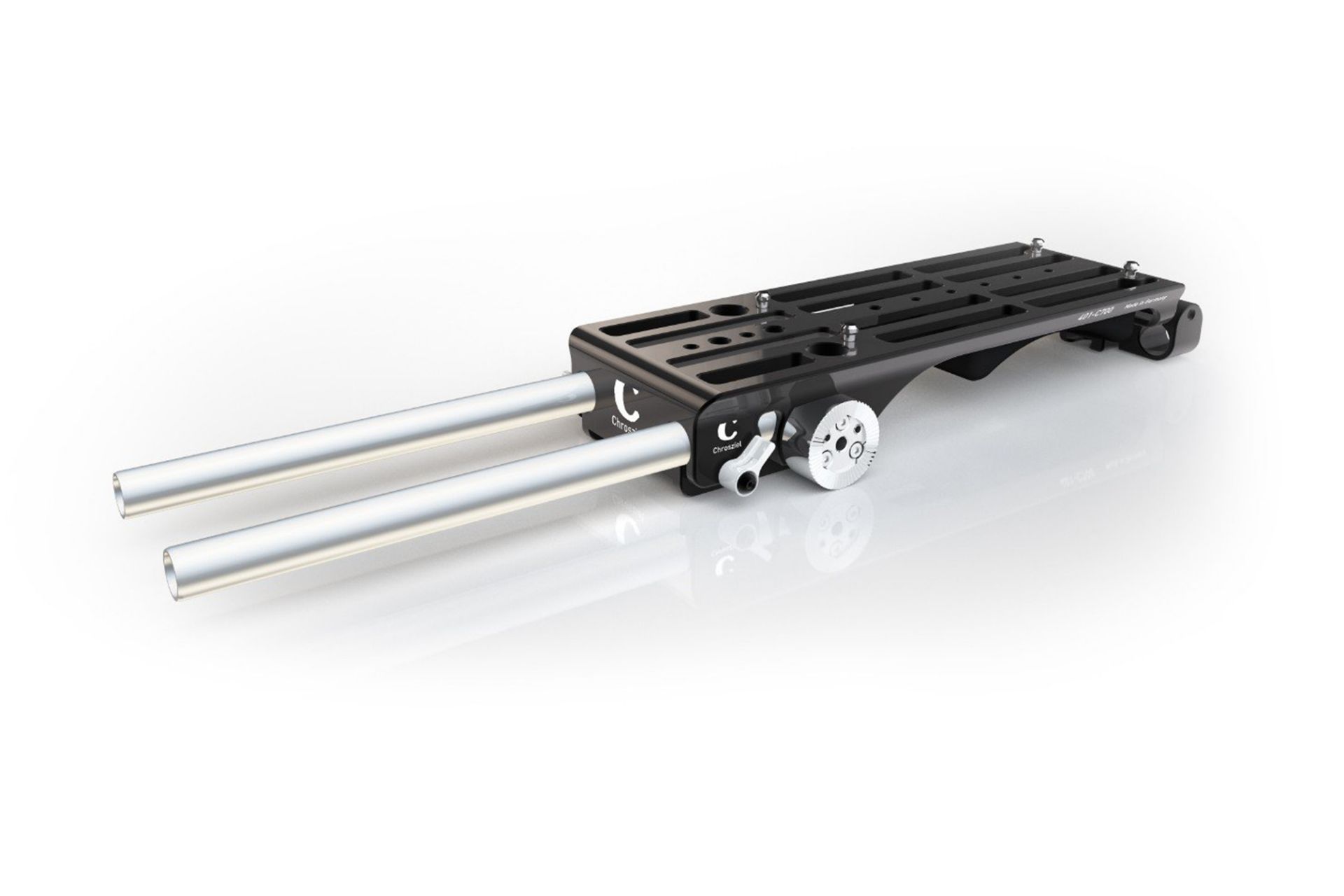 Light Weight Support w. shoulder pad for Canon EOS C700
Product number: 401-C700
LIGHT WEIGHT SUPPORT (LWS) 401-C700 for Canon EOS C700 / C700 FF & GS cameras
Light Weight Support for Canon EOS C700 (FF) with integrated shoulder pad, 2 rosettes, V-Lock for quick-release plate, rear rod clamp, Tripod Adapter Plate, 2 rods Ø 15mm, length 205mm.
COMPATIBLE!
Sony V-Mount for Chrosziel QuickLock Plate 401-150,
Sony VCT-14 or Arri V-Lock-Baseplate
Due to the interchangeable V-Lock Plate the Light Weight Support (LWS) 401-C700 can be modularly used with QuickLock Plates. For instance with the Chrosziel QuickLock Plate 401-150. This Plate is suitable for all cameras which are equipped with wedge plate connections (V-mount) in the front and a mounting bracket behind the shoulder support.
Demount it quickly and easily to install the Tripod Adapter Plate with four srews.
MULTIFUNCTIONAL!
Combined with the Chrosziel DigiCine Bridgeplate (401-F235).
The Tripod Adapter Plate 401-FS7-5-03 also serves as adapter for Chrosziel's DigiCine Bridge Plate 401-F235 and for direct tripod mounting.
The Tripod Adapter Plate replaces the V-Lock Plate.
STEADY!
Secure hold with the Tripod adapter plate (401-FS7-5-03)
Our Light Weight Support (LWS) 401-C700 is currently delivered with a Tripod Adapter Plate (401-Fs7-5-03). The plate can be used in exchange with the already built-in V-lock plate used. Thus, the support – also without an intermediately mounted quicklockpatte – can be used directly and securely on a tripod.
USER-FRIENDLY
Optional accessory Handgrip Extender 403-40
The new Chrosziel Universal Handgrip Extender (403-40) is the perfect complement for your Sony PXW-FS5 when shooting from the shoulder. The Handgrip has two Hirth Rosettes and is extendable between 175 and 250mm.
The Handgrip is universal and can be used not only with the Canon C700 but also with other cameras.
EXTENSION
Optional accessory
Our high quality leather handgrips in a set: can be extended, rotated and pivoted, with rosette connection.
The Chrosziel handgrips (403-30) are available as an optional accessory to the Light Weight Support 401-C700. You own ergonomically designed handpieces made of genuine leather. The handles are also universally usable on all cameras and mount with the internationally used Hirth joint with M6 thread.