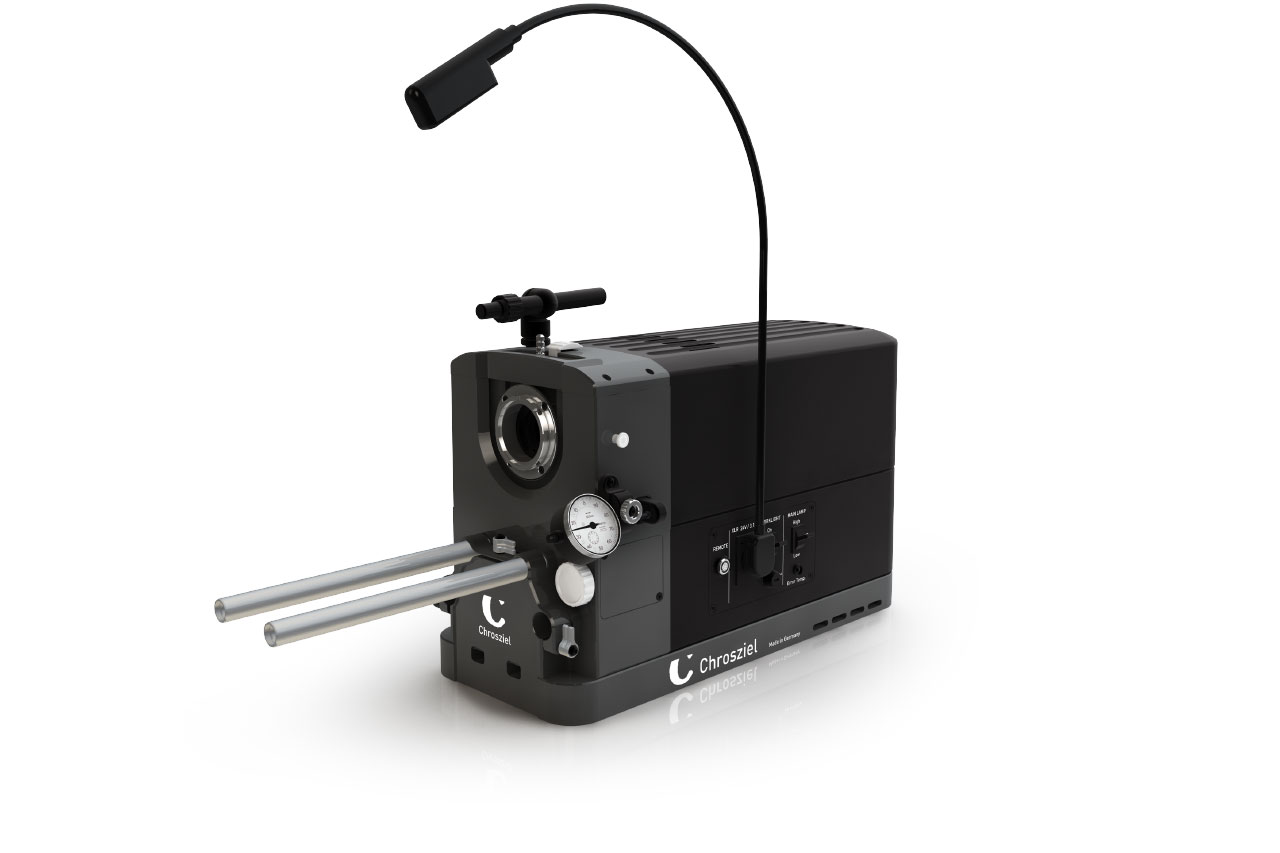 Lens Test Projector TP6
Product number: P-TP6
Lens Test Projector TP6 - basic unit incl.: Powercable, Measuring Plane Glass, Analogue Measuring Gauge, LED-light Source (approx. 5000K), Goose-neck Orientation Lamp, Remote Control, Intergrated Digital Motor for back-focus adjustment, intergrated Lens Support, 2 Rods Ø15mm, l. 205mm, Data sheet.
INCREASED PRECISION AND PERFECT DESIGN
With the Chrosziel LED Lens Testing Projector TP6, the flange focal distance of your camera lenses can be professionally checked. The projector also allows a visual check of a variety of parameters that make a statement on the quality of the checked optics. Our new projector combines new, ergonomic design with a variety of new features. The proved and tested functionality of the predecessor model has been taken into account in the development of the MK6 and rendered more precisely.
A variety of mounts with glass way for SD and HD, as well as for the various photographic and film lenses are available. We are happy to produce according to customer requirements. The provided remote control allows you to stay close to the projector screen at an optimum viewing distance and focus the image. Compatible with all established Lens Control Systems.
FEATURES
New comfortable, ergonomic design
Optimal illumination by bright LED light with 5000 K color temperature
Integrated rod clamp for Ø15 mm and Ø19 mm rods
New rotary switch for adjusting the dia position
2-step regulator for adjusting the light source (low/high)
Plane Glass, mounted in slide holder
Eclair C-Mount as base mount for all other mounts (e.g. Arri, PL, Canon, Nikon…)
Low voltage orientation lamp on goose neck with XLR plug
Mains supply switchable 115 / 230 volt AC
Adjustment range for measurement of the back focal length: ± 1.3mm
Cable-connected Remote Control