ALADIN MKII
The universal Lens Control System.
MODULAR AND EXPANDABLE:
THE EXTENSION MODULE
The Aladin MK II motor controller offers the basic equipment connections for 8 motors. This is expandable through an extension interface where additional extension modules (max. 5) can be mounted – meaning that special functions for your particular application easily can be realised.
The following optional extension modules are available:
ALADIN MKII Extension Interface Base: Extension interface basic unit for acceptance of up to 5 extension modules (AL2-EXT-BASE)
ALADIN MKII Digital Lens Interface: Extension interface module for the control of digital ENG lenses (Fujijon/Canon) (AL2-EXT-DLI)
ALADIN MKII Rear Camera Interface: Extension interface module rear camera for connecting digital and analogue rear camera controls (zoom & focus) (AL2-EXT-HK)
ALADIN MKII Lensport Interface: Extension interface module LensPort for broadcast functionality such as IRIS remote control, VTR / Talkback FIZ switching, FIZ Follow and Read Out, for connection to the camera-side 12-pin Hirose Lensport port (AL2-EXT-LP)
ALADIN MKII Motor Interface: Extension interface module for two additional motors (AL2-EXT-MOT)
ALADIN MKII Roll/Tilt Sensor Interface: Extension interface module roll/tilt sensor -90°/+90° (AL2-EXT-RTS)
Cover basic housing: Cover for free extension interface slots (AL2-EXT-PLATE)
THE MOTOR CONTROLLER
The central control unit.
Hardware equipment:
8 motor channels
2 serial ports
Time code input (LTC)
Multicolour OLED Display
Ergonomic membrane keyboard
Camera start/stop socket
BNC connector for radio or cable
2 x 3/8″ thread
USB port
Robust aluminium housing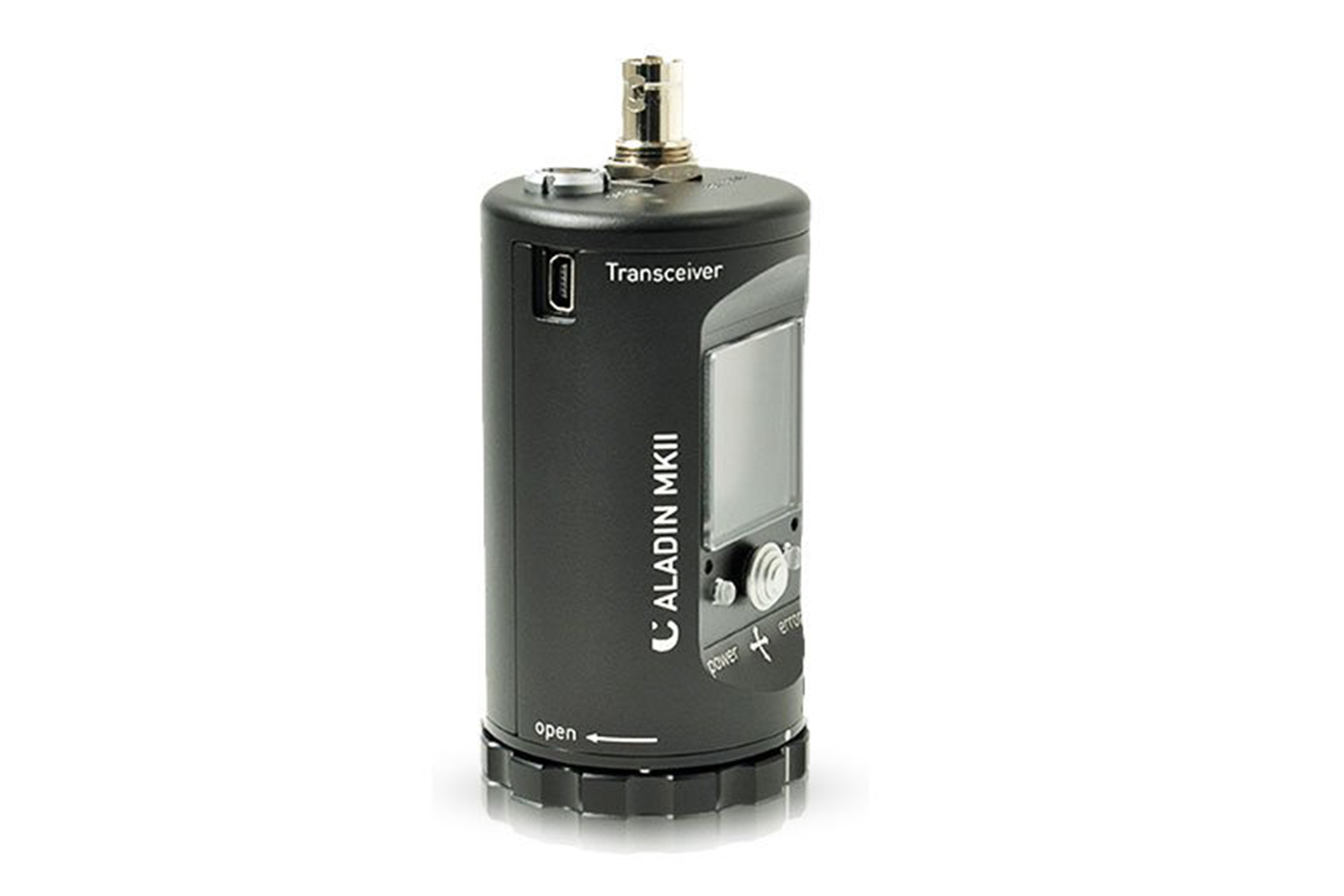 HAND UNIT: THE TRANSCEIVER
The Aladin hand unit is characterised by a modular design. Depending on the requirements you need for your project, you can combine the various hand-held modules.
The upper end of the hand unit usually consists of the transceiver module MK II and combines the motor controller with the hand unit:
16 transmitting channels in the 434 MHz band (alternatively 869 MHz band upon request)
Serial port RS232/422
Multicolour OLED display for all necessary information
Joystick with 5-axis menu navigation
HAND UNIT:
THE FOCUS/IRIS-MODULE WITH VARILOCK
The Focus-Iris module offers the following functions:
Handwheel with VariLock function – mechanically adjustable end stops
Adjustable fluid damping for the hand wheel
2-fold expansion each for handwheel and slider bar
Interchangeable scale ring – large, small and flat rings available
2-fold expansion each for handwheel and slider bar
Connector for gooseneck LED light
Direction switch each for handwheel and slider bar
Camera run/stop switch
HAND UNIT: THE ZOOM-MODULE
The zoom module offers you joystick-controlled, precise zooming:
Military-grade sub-miniature joystick
An LED column indicates the position of the zoom
Setting of the maximum speed via knob
Set buttons for zoom limits
Zap button for quick movement of the telephoto position
Direction switch for joystick
HAND UNIT: THE BATTERY
The battery: the energy source of the Aladin hand unit for an entire day of shooting!
NiMH cells
Can be charged at low and high temperatures
800 mAh / 7.2 volt
Rechargeable with charger (AL-CH)